Marine Sanitation Hoses
Marine Sanitation Hose:
Odors from a boat's sanitation system can originate from many sources:
Inlet hose and bowl rim: Organic matters from sea water inlet into the toilet can disintegrate and emit rotten egg smell from the flush water.
Holding tank gases can find its way into a boats interior either thru the toilet or the vent system.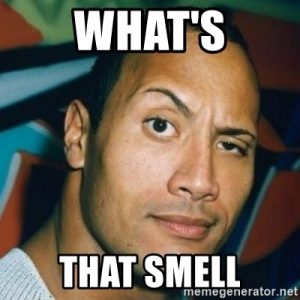 Consider just starting here to make things simple…
Hose permeation is a most common cause of odors from sanitation system. Choosing a correct hose for new installation or replacement is important for making system odor free for several years of use. Most commonly used hoses material include PVC, EPDM rubber and Butyl rubber.
Rubber hoses are better for low permeability compared to PVC and hence have longer warranties. Butyl rubber has better resistance against oils compared to EPDM. Both EPDM and butyl have better resistance to Alcohol used in winterization than PVC hose.
While choosing sanitation hose consider following:
1. Long life: Raritan Sani/Flex Odor Shield has a special white butyl rubber compound, to stop sewage odor from escaping the hose. It is 15 times more resistant to odor permeation than standard PVC hose, and carries a 5 year warranty against odor permeation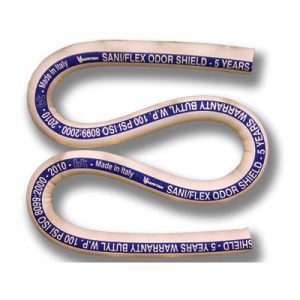 2. Ease of installation: Sani/Flex Odor Shield hose is extremely flexible. It will bend on a radius of 3.15″ without kinking. It can easily be installed on standard hose barb fittings without excessive effort, with no need to heat or lubricate the hose. These are major benefits for all installation mechanics who have spent long, difficult periods of time wrestling with other brands of sanitation hose
3. Strength against collapsing and pressure: Sani/Flex Odor Shield hose is reinforced. It contains a double steel wire helix reinforcement imbedded in the butyl rubber, plus a synthetic textile yarn, to resist bursting from high pressure and/or clogs at fittings. It is rated for 315 PSI burst pressure. It is also extremely resistant to collapsing from pump suction and/or vacuum applications
4. Handling and use: Sani/Flex Odor Shield hose is abrasion and chemical-resistant. It has an outer-wrap of smooth rubber imbedded fabric to resist abrasion, ozone, seawater and common chemicals. An antibacterial additive has also been added to the outer wrap, to further reduce chances for odor-permeation
Tech tips:
Permeation Test
If you suspect hose permeation may be the source of your odor issue, we suggest this simple test: Dampen a cloth in hot water (as hot as you can safely handle). Wrap the cloth around the suspected hose and let it cool. Remove and sniff the cloth. If the odor transfers to the cloth, the hoses are permeated and should be replaced. Be sure to check all hose connections…just because one passes the test doesn't mean other will – especially those that have the potential to trap waste.
Hose Replacement Do's and Don'ts
Do plan out your hose routing carefully. The leading cause of hose permeation is waste that is left to collect in sections of the discharge plumbing line. Avoid any unnecessary rises or sags in the plumbing line and let gravity drain the hose as much as possible. Yes, we know… it's a boat so when this simply isn't possible we suggest you flush the head several times before you leave. Replacing the effluent with only water will reduce permeation possibility significantly.
Don't use heat or lubricants to assist in your installation. Sani/Flex Odor Shield is designed so those extra steps are unnecessary. Its smooth interior makes barbed hose connections very easy to work with and its ability to bend on a 3 1/2″ radius makes it the most flexible sanitation hose on the market.
Do make sure to use high quality stainless steel hose clamps on all hose adapters. Using fasteners that can break or corrode can lead to sewage leakage or worse – catastrophic flooding.
Do not take any shortcuts! Make sure all connections below the waterline and double clamped!
Be sure to buy your marine sanitation hoses here.
Image via: Whats that smell